Wasabi was grated on shark skin traditionally…
… which inspiriered us as designers of smart surfaces to start an own collection: WASABI-, GINGER & NUTMEG-GRATERS, produced with innovative 3D-Printing-Technology:
Turn "GINGER" 360° by finger or mouse:
Example: our "Ginger" Grater:
The Ginger is mashed completely  – no fibers or peaces left – for 100% pure taste!
No need to snip the ginger with a knife.
Cleanable under a steam of water – minimalistic: The grater is cleaned while preparing a cup of tea.
Upcycling :
A stand handcarved from recycled mahagoniy wood "I was a door."
Natural Packaging  from Cork leather; interesting print with product information on it.
Products for Individualists & Techies:
The Graters were manufactured by selective Laser Melting  (SLM Technologie) in a powder bed –  Slice after slice. We established an acid-free way of polishing the parts afterwards.
The result is a very stable 1.4404 stainless steel, thats used generally for kitchen aid products. Metal-3D-Printing is higher in its tightness than casts from made a mold.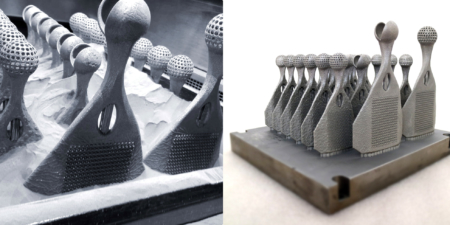 1
Powderbed and building platform, realization "slice after slice"
2
maximum 40 parts per platform